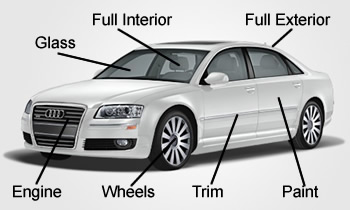 Ozone Treatment
$150
For strong offensive odors from cigarettes, smoke damage, decaying matter, pets, urine, food, beverages, vomit, mold and mildew our ozone treatment permanently kills the odor (interior detail required) Ozone (O3) is a colorless gas with a distinct pungent scent. It is a molecule made up of 3 atoms of oxygen. Ozone occurs quite readily in nature, at the beach, in the forest, or near waterfalls. In fact, the scent of fresh spring rain following a thunderstorm comes from nature's creation of ozone. Since ozone is the second most powerful sterilant in existence, it can easily destroy bacteria, viruses, mold and odors rather quickly. For this service to be effective, a complete interior cleaning is required.
FABRIC PROTECTION
$75-$185
CARS CARPET $75.00, SEATS $75.00 BOTH $125.00
small/medium suv $85.00 $85.00 $150.00
Large, vans, 3rd row seat $100.00 $100.00 $185.00
CQUARTZ FABRIC is the latest in fabric protection. The product transforms the substrate into a super hydrophobic surface that is durable, flexible and resistant to stains, body oils and bacteria growth. It was specifically engineered to work without compromising the look, feel or comfort of the fabric. CQuartz Fabric contains UV inhibitors which will protect against sun damage/fading
In addition it will provide unparalled stain and chemical resistance, and abrasion resistance for up to 12 months!! Water and oil based liquids are instantly repelled, so coffee, soda, wine, blood and more roll right off the surface and can be easily wiped up with a damp cloth, leaving ZERO staining. If you have kids, or like to drink coffee or soda while driving like I do, you NEED this product.
WINDOW COATINGS
$40 - $120
We offer two types of window coatings. One is budget minded and the other is more long lasting.
Gtechnique water repellent $40.00 will treat the exterior windows and water will bead off like similar over the counter products. This lasts usually 1-3 months pending on how much you drive and what the weather has been like.
Gtechnique G1 CLEAR VISION runs $120.00. Expensive? Yes! But simply the best water repellent available and lasts up to 30,000 miles of driving. So pending on how much you drive, this can last you up to 2 1/2 years. WOW!
CQuartz Leather Protection Package
$120-$160
Cquartz Leather and Vinyl Coatings.
Cars, Trucks and Suv's $120 | Vans and 3rd row seat suv's $160
This product was intended to provide the ultimate in protection for both leather and vinyl surfaces in your vehicle. It was designed to to provide an excellent combination of soft to the touch tactile feel, extreme protection, and unbelievable durability. It offers the best protection against common stains like mud, grease, and jean dye transfer, and also offers a beautiful "better than new " finish with no added gloss. Cquartz Leather contains UV inhibitors which serve to provide the ultimate in UV protection, preventing leather from yellowing or fading.
Due to its hydrophobic and oil phobic nature, maintenance of the interior surfaces becomes as simple as wiping with a damp cloth and walking away, with expected durability for up to 2 years.
Plastic trim color restoration
$250 and up
We clean and prep the molding trim pieces, mask off around painted surfaces and apply a special coating that restores the shine and protects it for the harmful UV rays that damaged it in the first place. This lasts 18-24 months guaranteed.
Prices are based on 4hrs shop labor and requires 8-12 cure time so plan on leaving the vehicle over night.
Engine Shampoo
$50
Keeping a vehicles engine clean actually will help it to run cooler, makes it easier to service and increases resale value. Guys think about this, it's the first place we look when buying car. The engine compartment is shampooed with special degreasers & cleaners to break down caked up grease and grime that has deposited on firewalls, liquid containers and valve covers. Then we apply a non silicone low sheen dressing special made for engine compartments that won't harm the vehicles electronics. (never use a silicone based dressing in this area) Although many precautions are taken not to damage various electronic we are not responsible for damage that could occur.
Can be purchased only if doing and exterior or a full or prestige detail, as doing the engine will splash over to the outside making it necessary to clean it
Convertable Roof Cleaning & Conditioning
$40
Many convertable tops are made of cloth today AKA "stay fast" material. These cloth tops are prone to environmental fallout, staining and spotting. Vehicle's cloth roof is first thoroughly cleaned with a special cleaning agent formulated just for a fabric convertable roof. Once cleaned and dried, RaggTopp fabric protection is applied to protect the fabric from these elements.
Paint Sealant Upgrade
$40
Sealants form a molecular bond to the paint and last up to 12 months. Waxes only last up to 3 months and get soft at surfaces temperatures over 80 degrees. This allows damaging UV Rays and dirt to become trapped on the surface of the paint causing oxidation and a dull hazy look. Sealants do not break down and do not allow UV Rays and dirt to become trapped.
Headlight Restoration
$50 one $79 pair
Dirty, dingy headlights are not only unsightly but more importantly, they make driving at night even more risky then it already is. We can clean and restore your headlights back to new and keep help them looking new and shining bright.